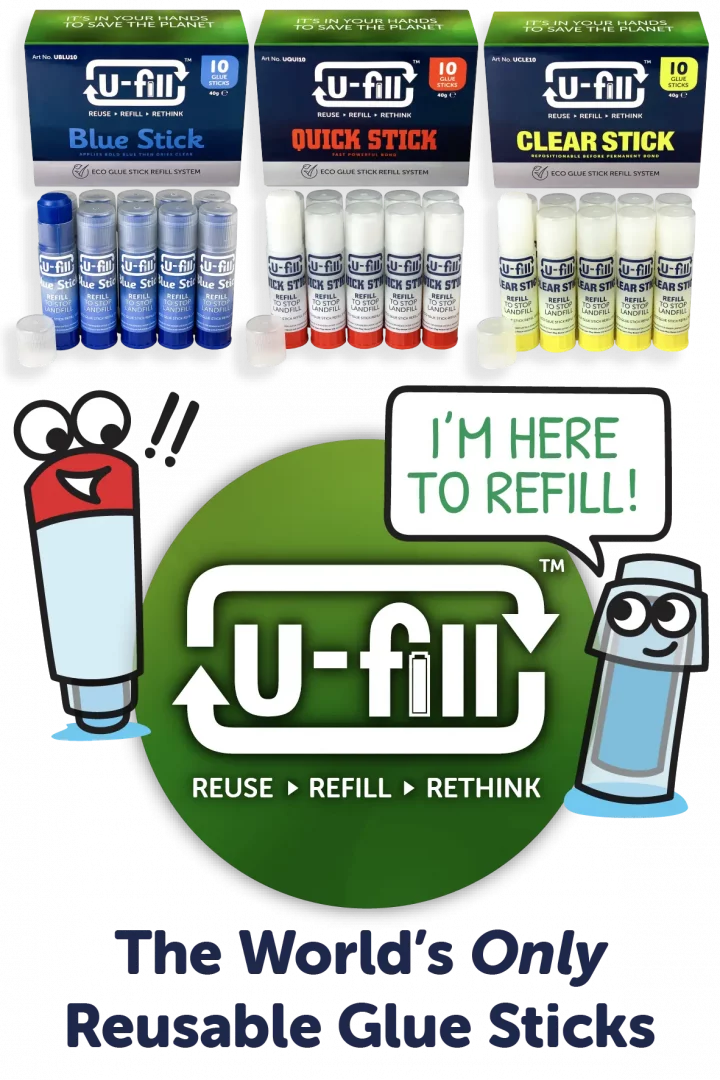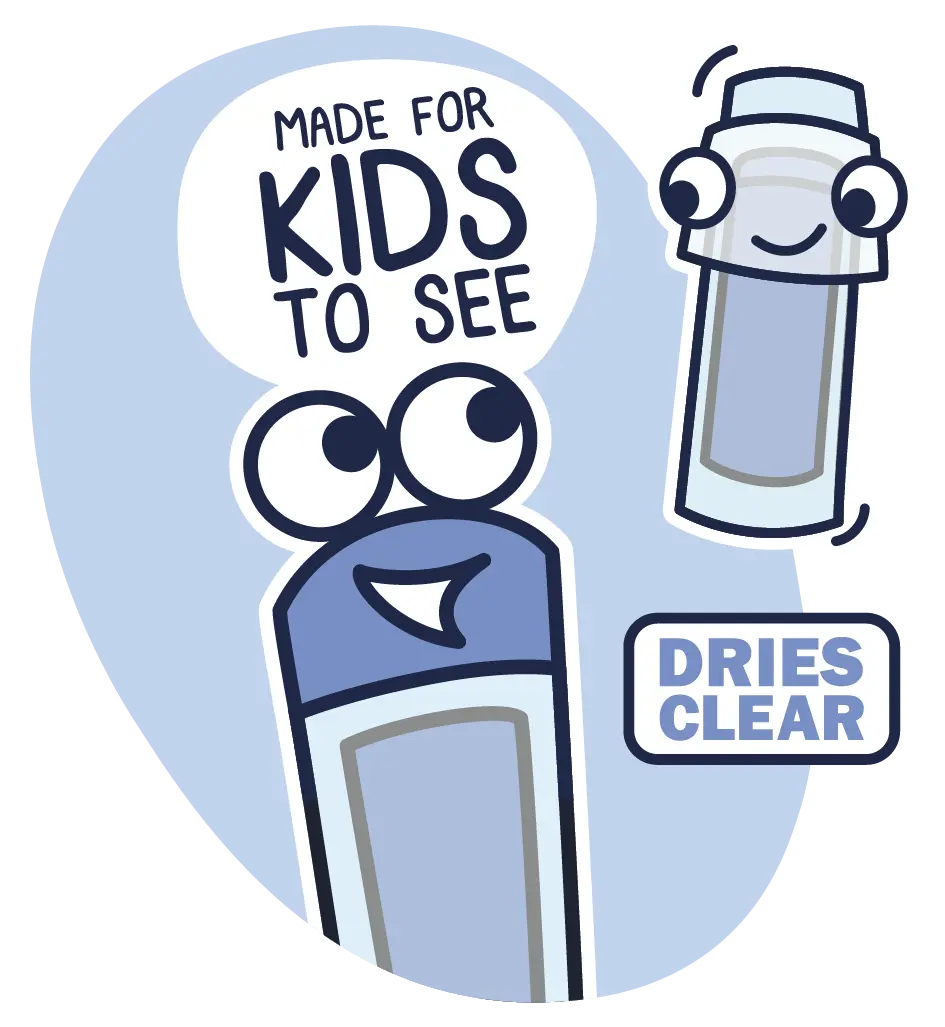 U-fill Blue Glue Stick
Training glue stick designed with the optimum adhesive content and setting time for younger children. Applies bold blue to help them see where they are sticking, then dries clear.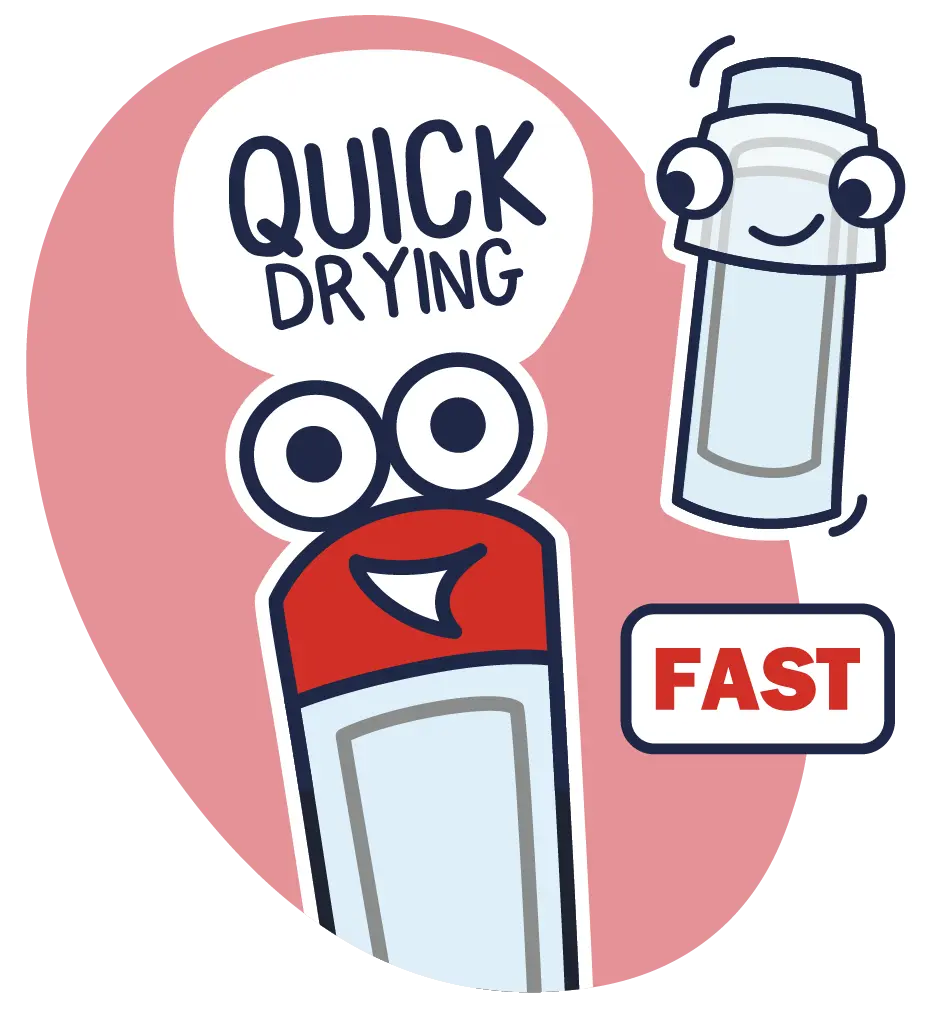 U-fill Quick Glue Stick
Fastest setting glue formula. Reposition for up to 30 seconds, then strong permanent bond. Smooth application with little to no puckering due to low water content. Reliable and durable everyday glue stick.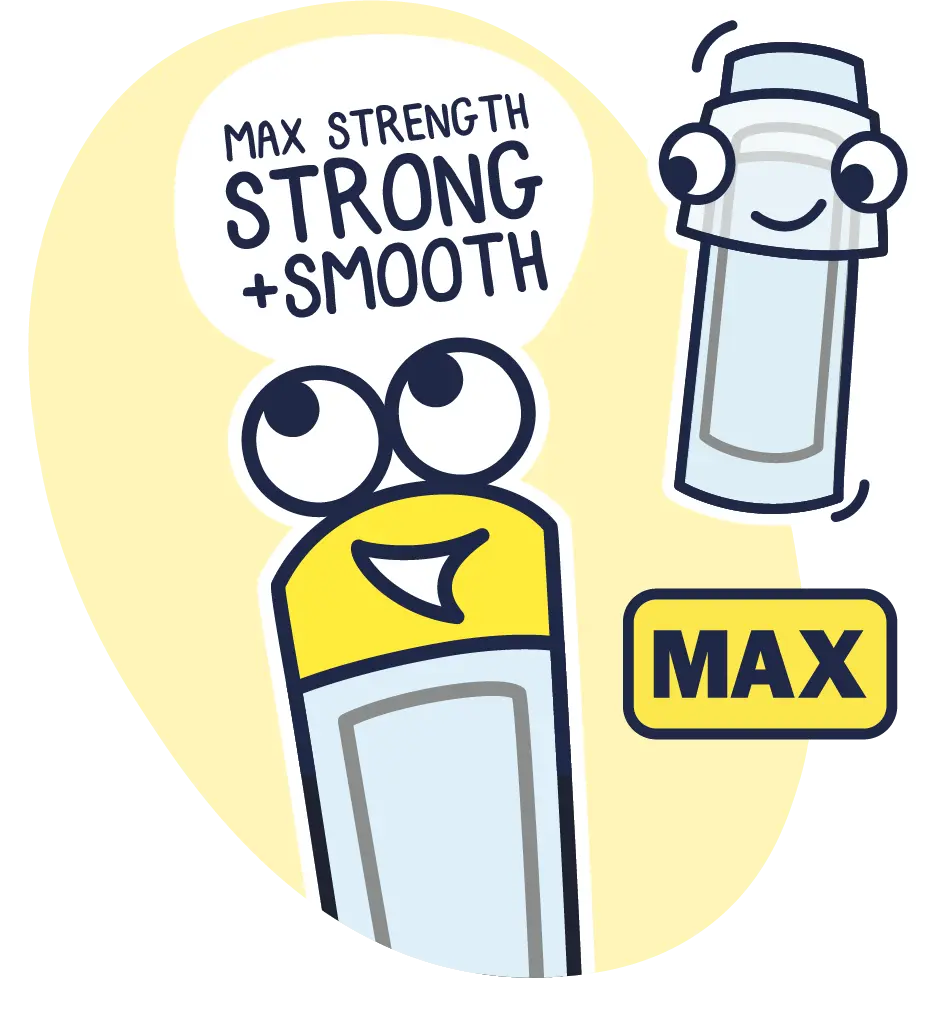 U-fill Clear Glue Stick
Longest lasting and most versatile glue formula. Highest percentage adhesive at 45% and lowest water content. Smoothest application with no puckering or lumps. Long reposition time of up to 60 seconds before strong permanent bond.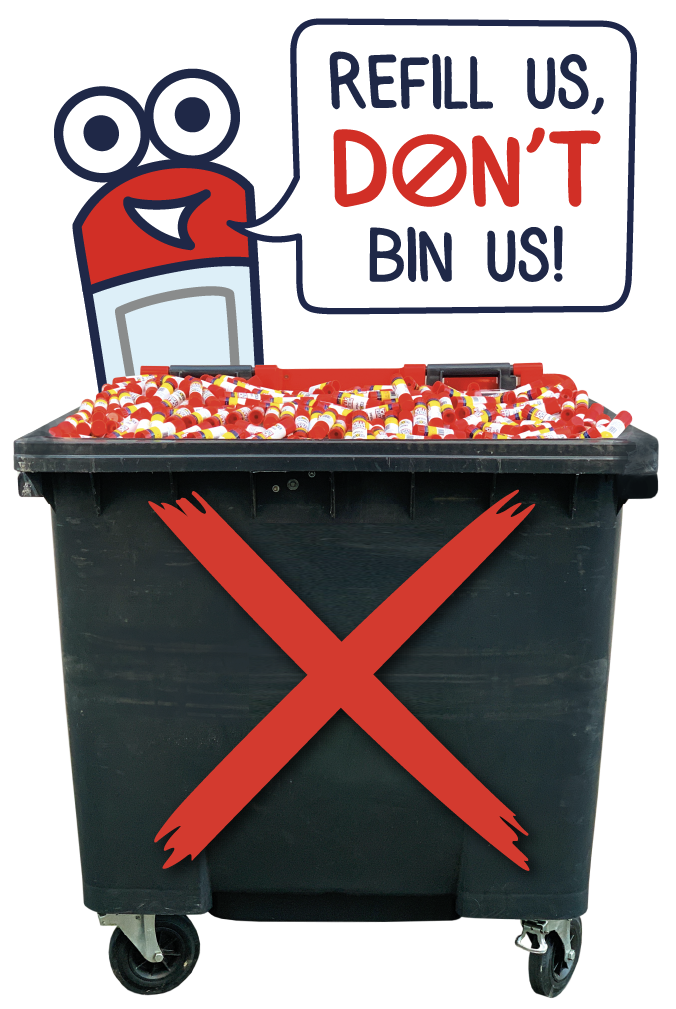 It's in Your Hands to Save the Planet
This may come as a shock, but the fact that glue sticks can be recycled is actually a myth, meaning they are destined for landfill or incineration. Adopt our eco refill and reuse system and stop sending glue sticks to landfill. Reuse, refill and rethink with 'U-fill', the most eco friendly glue sticks for school.
How to Refill Your Glue Dispenser
Watch this short video to learn how easy it is to reuse your glue sticks rather than sending them to landfill! Please note that the U-fill refills are only compatible with the U-fill brand of glue sticks.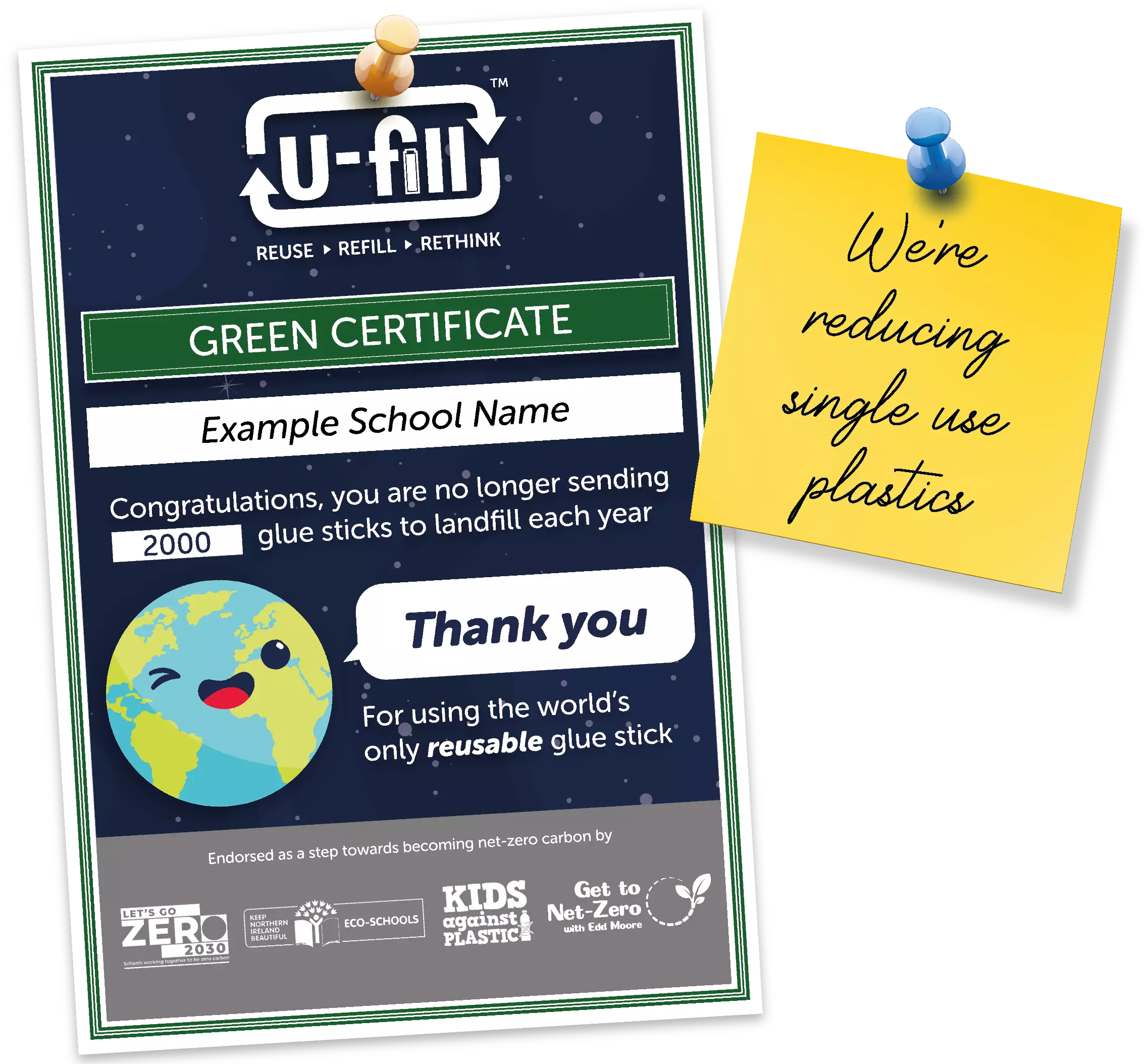 Register for Your Green Certificate
Complete our short form to register for your free U-fill Green Certificate. You will be sent an email which includes a welcome PDF guide, plus a personalised Green Certificate with an estimated calculation of the number of glue sticks you will prevent from going to landfill by switching to our U-fill system.
Click to Register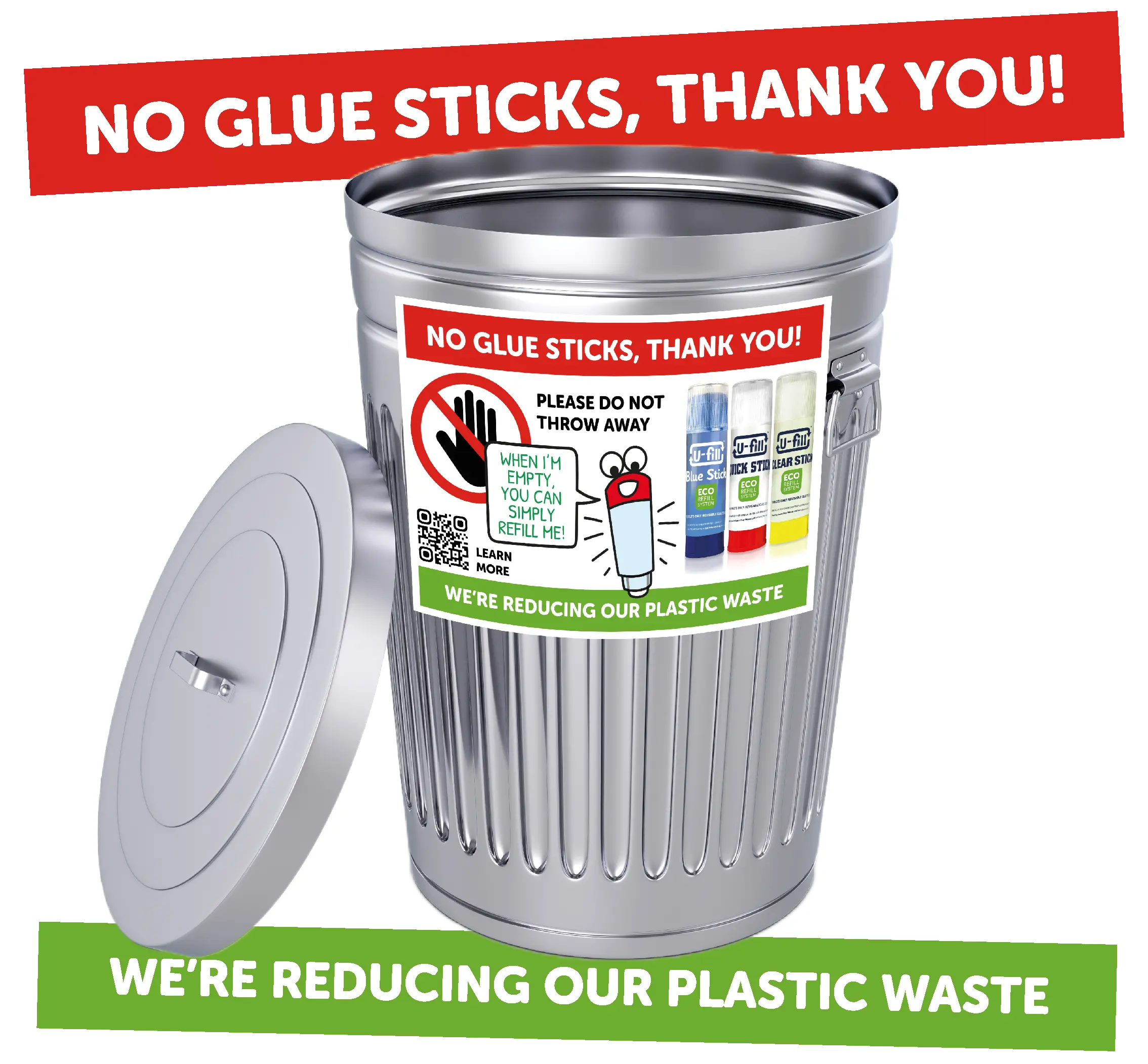 Reinforce the Message around Your Setting…
Download and print this free A4 sheet and stick them onto the bins around your setting to help reinforce the reuse and refill concept.
Open PDF
Download PDF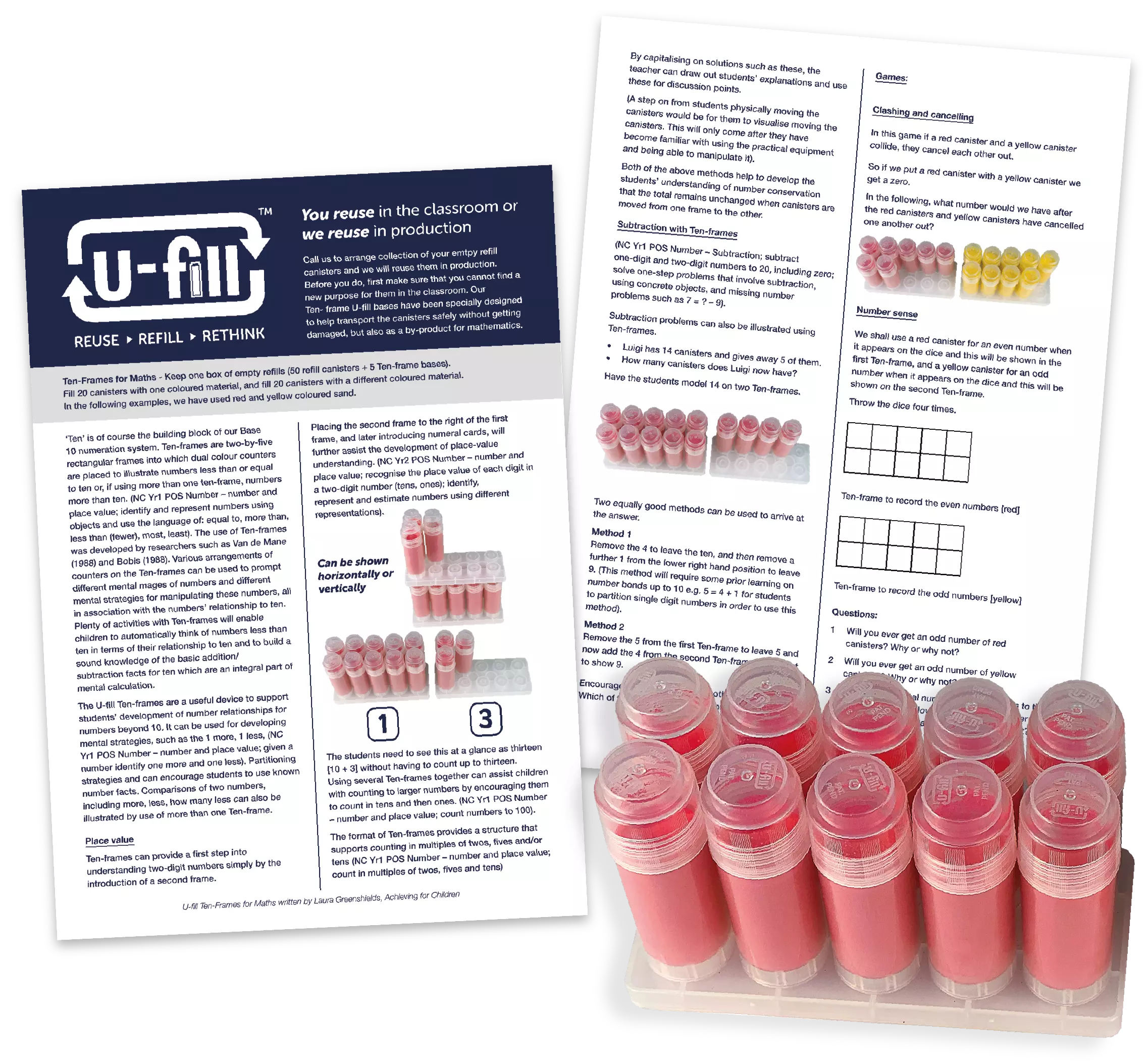 Use the Ten Frame Bases for Maths
Download this free maths lesson plan resource, showing you how you can use the U-fill refill canisters and bases as ten frames for teaching maths.
Open PDF
Download PDF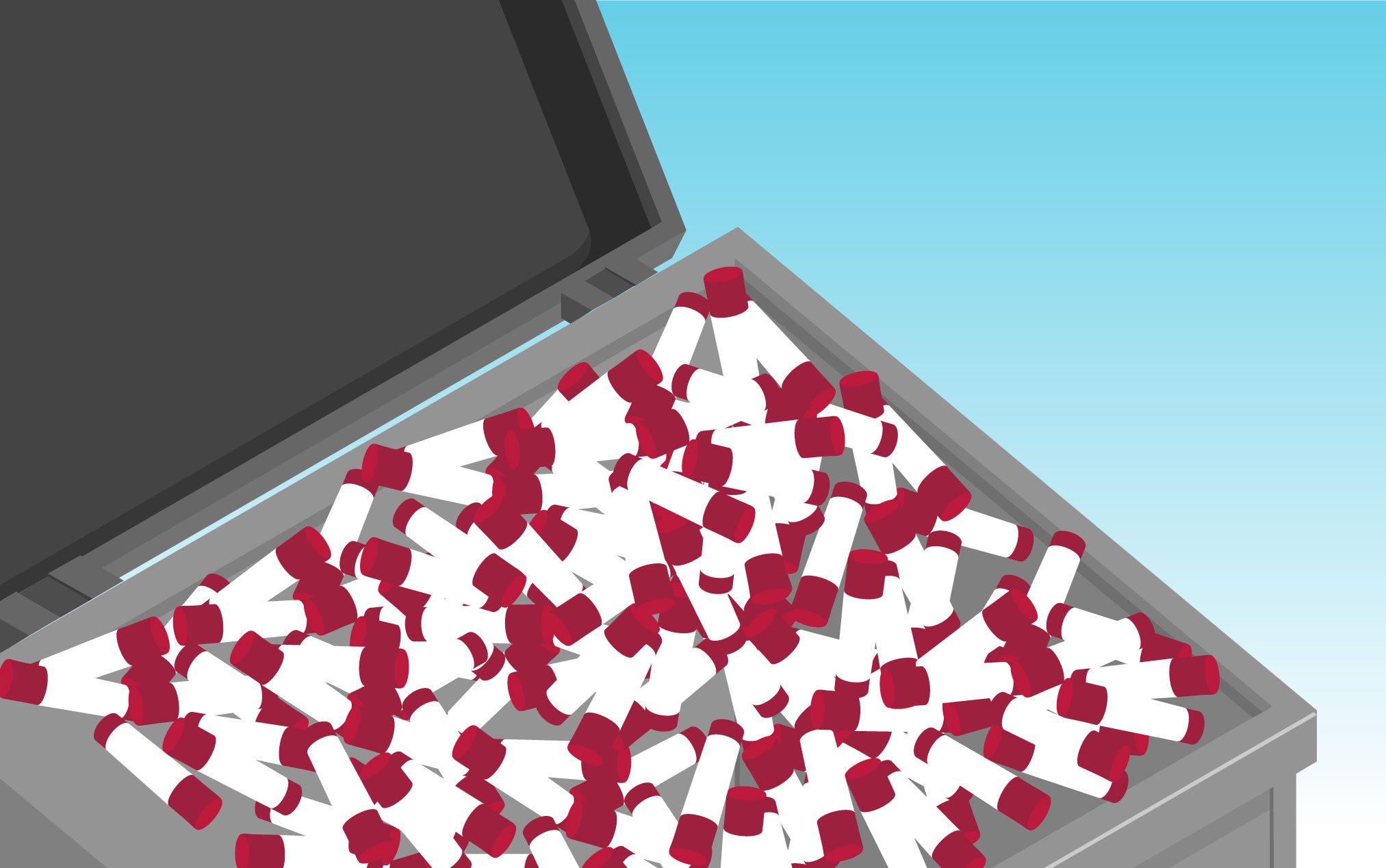 The average school sends up to 2,000 glue sticks to landfill each year
Glue sticks are very hard to recycle because they are contaminated with glue residue and made from multiple types of plastic.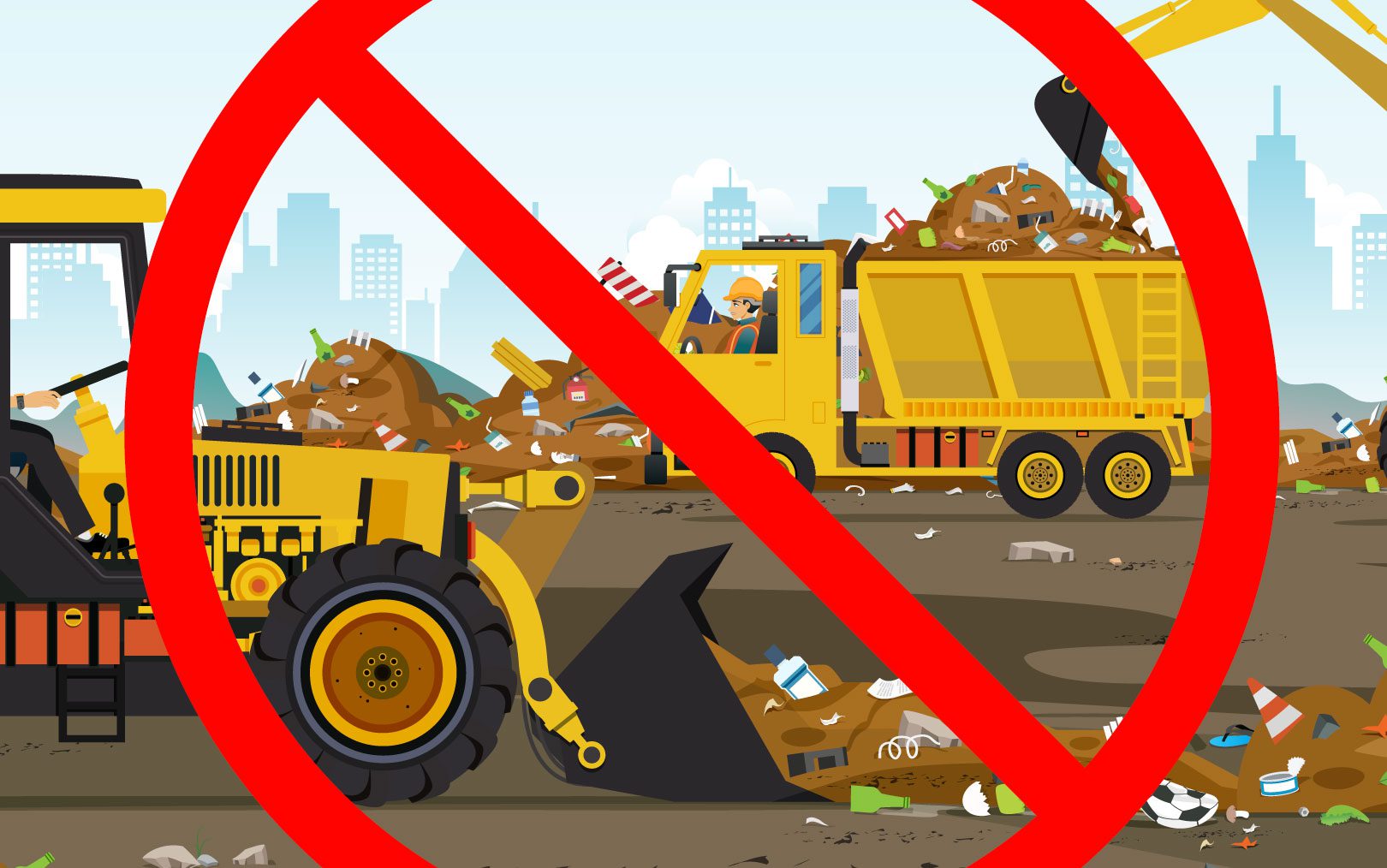 Refill to stop landfill
U-fill glue sticks are designed to be refilled, not thrown away. Keep your empty glue dispensers and replenish the contents with our refill canisters.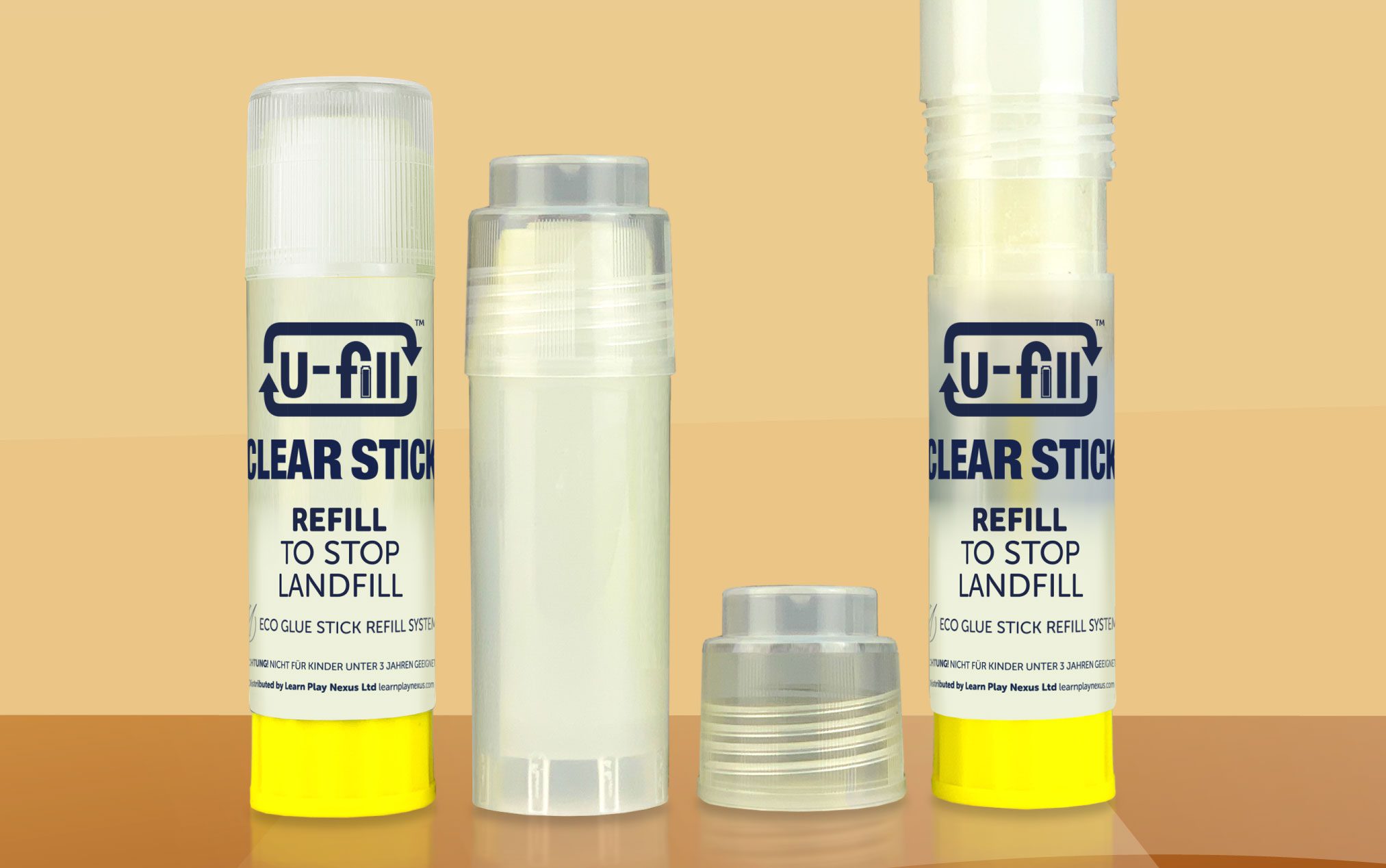 How do I refill my glue dispenser?
Watch this quick and simple video guide to learn how. It's easy and fun for children to learn too!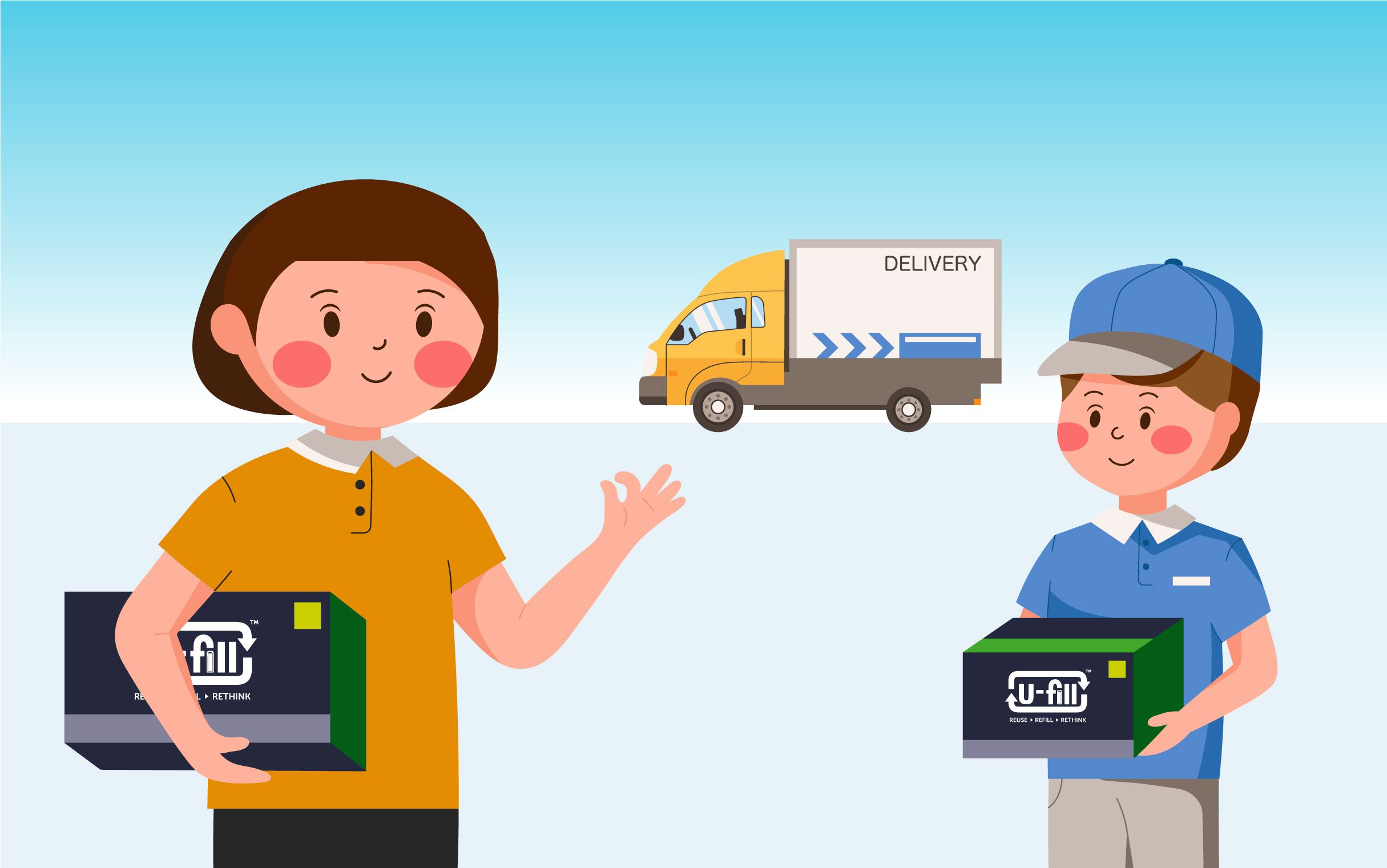 Call us to arrange your free drop and swap
When you arrange a drop and swap, our courier will collect your empty refill canisters when they deliver your new ones. Remember to keep your empty glue dispensers!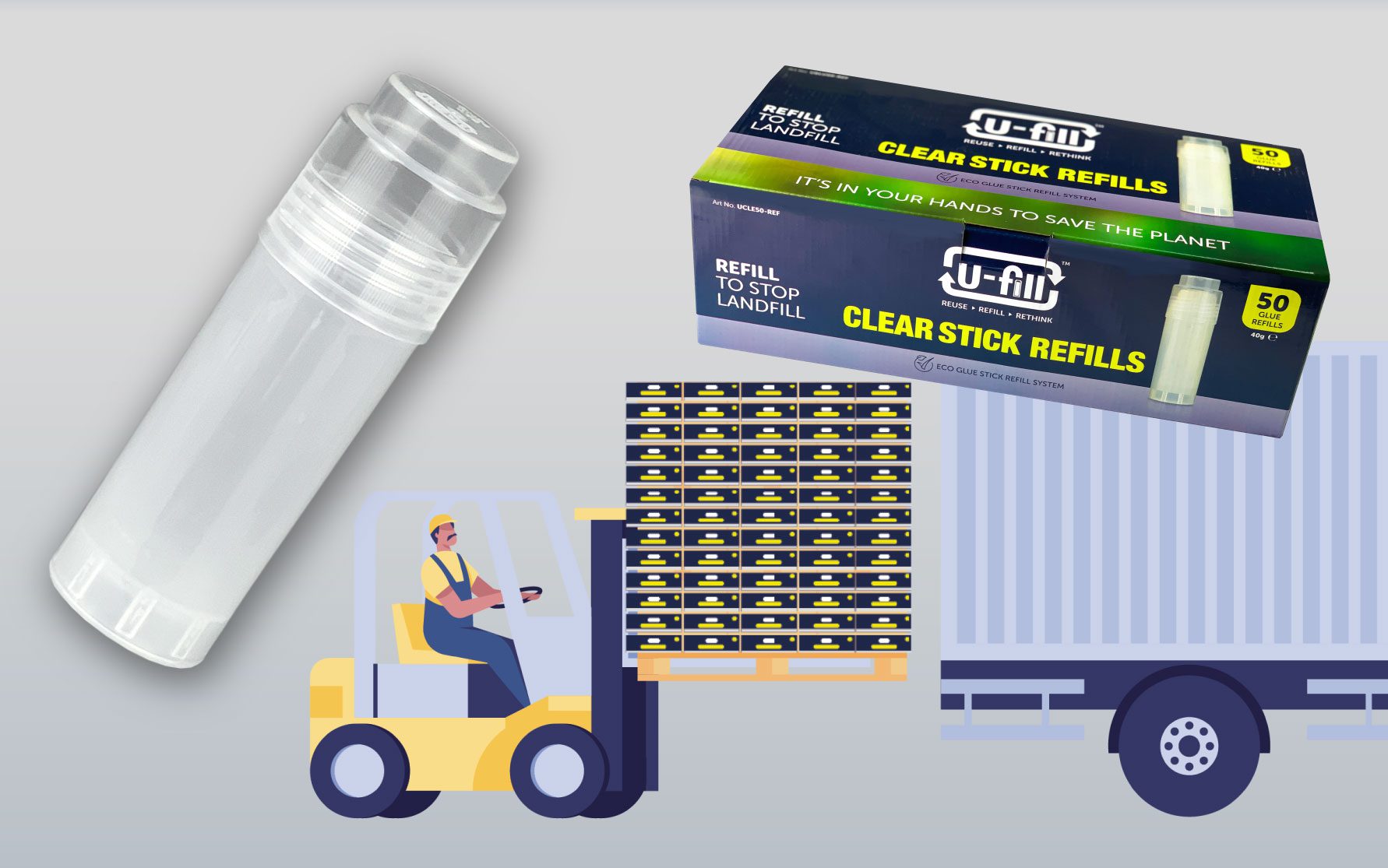 Help us reach our first 100,000 collection target
When we reach this number of returned empty refill canisters, we will send them back to our factory to be reused in production.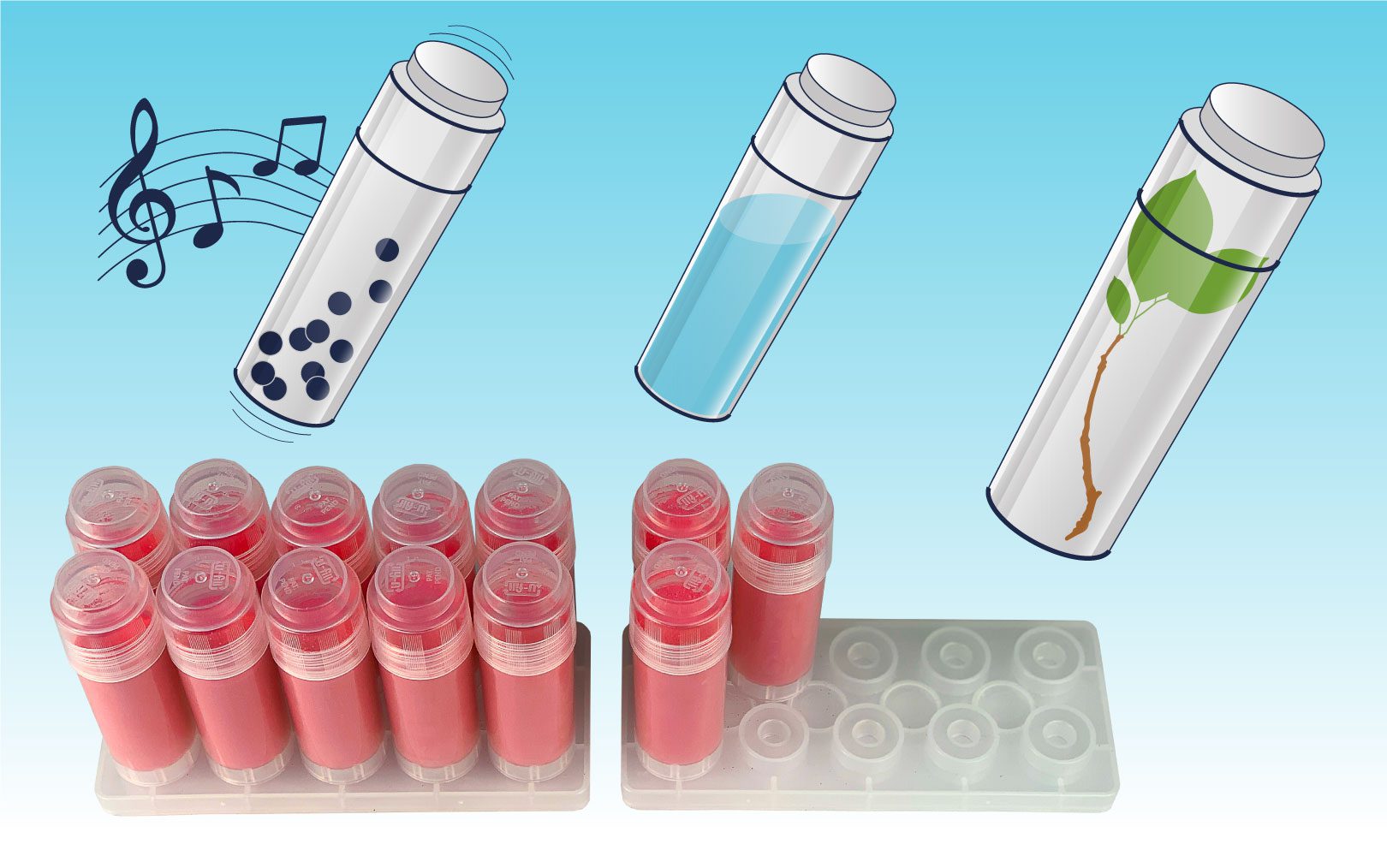 You reuse in the classroom, or we reuse in production
Before you return your empty canisters, first make sure you don't need them! The U-fill by-product has many uses on top of simply storing glue!
Endorsed as a step towards becoming net-zero carbon by